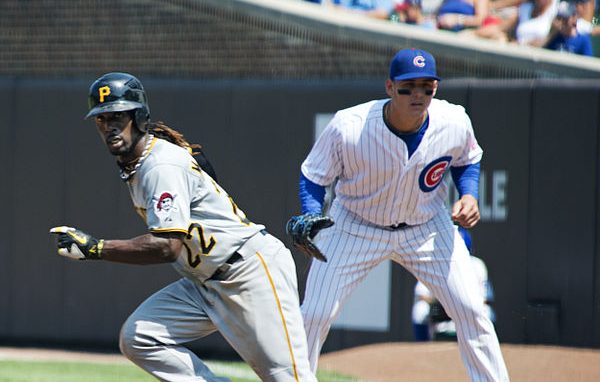 Most people who've watched Moneyball remember the conversation where Billy Beane asks Scott Hatteberg to transition from behind the plate to first base. Scott shows concern, saying that he's only ever played at catcher. Beane responds by asking manager Ron Washington to confirm that it's not that hard to play first base.
Washington cuts the bullshit immediately, responding with "It's incredibly hard".
This has been the only time that playing first base has been given the respect it should. I'm upset that it took a Hollywood movie for the idea to make it into the public eye.
Defensive versatility
As both a fan and a sabermetrics nerd, one of my favorite traits of any baseball player is defensive versatility. The ability to command multiple positions on the field. It's both fun to watch, and having plus stats at multiple positions on the field is incredibly valuable.
It would come as no surprise, then, that a lot of my favorite baseball players are utility infielders/outfielders. Marwin Gonzalez with the Twins, Jurickson Profar with the Padres. Russell Martin could play the infield when he wasn't catching. Seeing him convert a 5-3 putout from third base was always really satisfying, for some reason.
There are many players like that out there: Hernan Perez, who played every position except catcher (yes – the man pitched too) for the Brewers in 2019. Also, Ian Happ with the Cubs – and I love all of them. They're analytical blessings, and they're amazing for any manager to have on their roster.
Even some of the great masters in our game can play multiple positions. People often forget that Joey Gallo, aside from blasting baseballs into the mesosphere, can play the outfield, as well as corner infield. It brings a ballclub a lot of lineup versatility.
First base is not the least important position
There's one thing that really grinds my gears. It's the people that say that first base is the least important position in the infield. Often, teams will throw people with a minus defensive ability on first base. That is simply because they can swing the bat a little bit.
Stop. Stop it.
It's ridiculous how playing the second hot corner is worth an unbelievable -12.5 WAR (wins above replacement) per season for any given player. The value a good first baseman brings to his infield is hard to measure with sabermetrics. The fact that first base is inherently worth less than left field is absurd.
Some players who failed at first base
Does anybody not remember the disaster that was Mike Piazza at first base? He was never known for his defense. However, watching him play first base was painful. And not only was it painful to watch, it actively hurt his infield.
Alex Rodriguez had a stint at first base near the end of his career. It went horribly. People often take the defensive skills of good first basemen for granted, and we need to stop it.
A good first baseman makes the rest of the infield so much better. Andrelton Simmons is an otherworldly defensive shortstop. However, I don't think it was a coincidence he was throwing to Freddie Freeman while he was with the Braves. The same thing with the myriad of talented infielders that have played with the Cubs recently. Anthony Rizzo is a damn vacuum at first.
The same can be said for anybody who's ever played with the likes of Paul Goldschmidt, Matt Olson, Mark Teixeira. Do people not remember how much better Keith Hernandez made his infield? When asked, an anonymous Royals infielder said that he would much prefer Eric Hosmer at first base over Billy Butler. That was for the sole reason that Hosmer can actually play the position well.
Why aren't conversions to first base successful?
There have been so few successful conversions to first base from other positions. I think it's laughable that ballclubs are still trying it. Hanley Ramirez did so well (read: absolutely horrible) at first base he got made a full-time DH in 2017. This was just one year removed from saying playing first base full-time would be easy.
Rhys Hoskins' move to first base has only been a relative success. That is, considering that he was one of the worst defensive left fielders in the history of baseball. The Cardinals tried Matt Holliday during the waning years of his career, and it just didn't work. Of course, it didn't work! Playing first base is hard!
I'm a huge defender of letting pitchers take their hacks at the plate. One major positive of the designated hitter (DH) position is that it allows teams to utilize star hitters that can rake with the best. Additionally, this is done without having to shoehorn them into the defensive lineup.
Would Edgar Martinez or David Ortiz have had the success they had late in their careers without being the DH? In David's defense, he was the first baseman by trade (even though he wasn't adept there). For the most part, the DH lets aging superstars who are still worth a good season at the plate play. I don't know if I could stand to watch Martinez and Ortiz at 40 years old. Especially lumbering to first base and making their infield worse.
Please. Take first base seriously. Your infield could depend on it.
Please follow and like us: