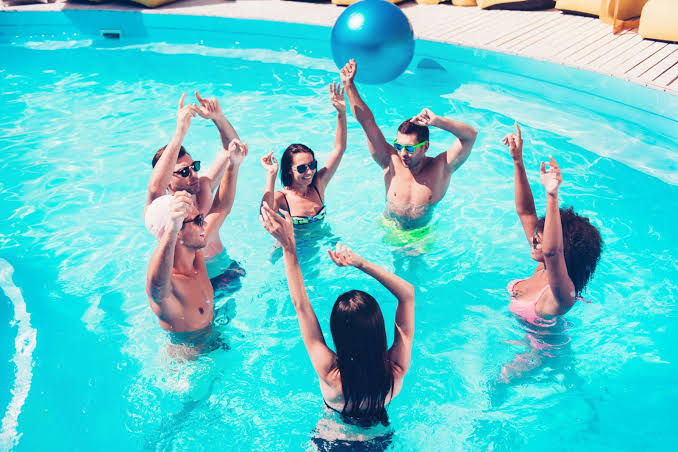 Are you planning to remodel your swimming pool? If yes, the foremost thing to do is check for the latest trends in materials that are perfect for the pool. Choose the most practical and appropriate option and get started on the renovation work. Here are some suggestions that can help.
Latest water features
When you are renovating your oasis it is important to have the latest water features as that enhances beauty. Some of the popular options at the moment are;
Scuppers: Scuppers is a slot or opening on a boat deck that helps to drain the water away off the deck. The scupper water feature in the swimming pool allows water to flow into it. In a pool design, scuppers are available from simple to ornate choices and come in many sizes too. It aids in creating a great visual effect as well as a soothing background sound for the pool. 
Gushers: This is used in the shallow part of the pool to produce waves. This is used primarily if you have kids and want to keep them occupied at lesser depth to avoid accidents. Usually, a maximum of three blubbers is added to the pool, though any number can be installed.
Waterfalls: It is a common choice for a backyard pool. This makes the pool look like a natural oasis. The water falling down a natural rock can truly change your swimming pool into your private oasis. A cascading effect is also a good choice say pool renovators LiquidAssetsPools.com, where the water flow is orchestrated to fall from one rock to another. The height at which the water cascades can be adjusted. The sound can also be adjusted anywhere between silent to a gushing mode. You can also add more accessories for a natural look. 
Pencil Jets: Here, water streams shoot from the deck to the pool creating a stunning effect. These are unique and will be surely liked by your family and the guests who see it. 
Latest pool trends
It is time to upgrade your pool and take it to the next level. Check out some of the latest and biggest trends:
Tanning ledge: Having a tanning ledge can help as it is multifunctional. The shallow area on the ledge can be used for tanning and is also a safe area where kids can enjoy their pool time. Place some chairs on the tanning ledge and you can enjoy a cool drink or use an umbrella to get shade. 
Pool Surfaces: If you want to play around with pool surface colors then instead of sticking to the traditional blue, you can opt for black, red, yellow, etc. Another popular option is the glass tile surface as it offers anti-slip and anti-stain advantages. It is also resistant to chemicals and temperature changes. 
Pool Deck Material: Flagstone, slate, travertine and artificial turf are some of the deck materials you can choose. A few things to keep in mind when choosing the material is to ensure it doesn't require much maintenance. Also in areas that have hot summers ensure that the deck material used does not get heated up during the hot season.
Include a few other things like a spa, an outdoor kitchen, a filter, and a pump system to the renovation list and get ready to dip into your backyard oasis. 
Please follow and like us: