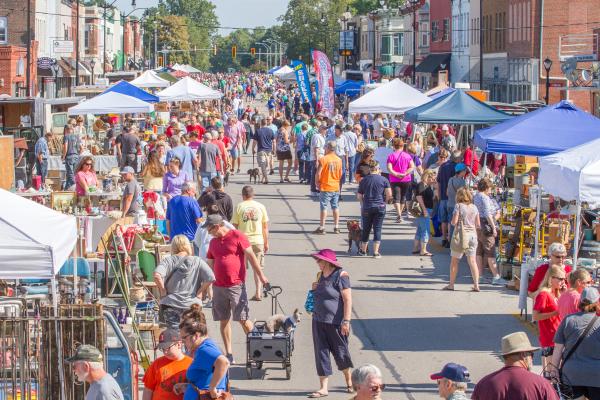 LITCHFIELD (Heartland Newsfeed) — The fifth season of the Litchfield Pickers Market is set to kick off this Sunday, Apr. 14 and the organizers — the Litchfield Office of Tourism and Prairie Pickers — have been making preparations to kick off the 2019 season.
Per usual, the open-air market specializes in antique, collectible, vintage and refurbished items and is the largest pickers market in central Illinois, located less than three miles off of Interstate 55 in the downtown portion of town along Union Avenue. The event occupies as many as 340 vendor spaces.
In addition to the vendors, the event welcomes musicians to perform on the stage at Library Park. The Litchfield Farmers Market welcomes St. Louis area group The Mound City Slickers, an old-time string band who plays their music with elements of passion, drive and with an excellent sense of humor. The band — comprised of Sean Belt on ukuleles, Lindell Blackford on fiddle and mandolin, Rich Hibbs on banjo, Rich Egan on piano, Bill Stewart on fiddle and Keith Dudding on guitar — will be performing from 9 a.m. until 11:30 a.m.
Edwardsville-based The Silver Creek Bluegrass Band will take the stage during the remainder of the market. The five-member country bluegrass band — comprised of Derek Twesten on vocals and mandolin, Colin Graham on vocals and banjo, Blake Korte on dobro and vocals, Logan Perez on bass and Quinten Voss on guitar and vocals — will take the stage at 12 noon and will perform until the end of the market at 3 p.m.
The organizers encourage and recommend bringing in totes, wagons, carts, pickup trucks, and anything that will help haul all of the great treasures to be found, as well as lawn chairs or picnic blankets for the live entertainment, to make the most of the entire experience.
Visitors and patrons are encouraged to drop by the tourism information booth in front of the library to sign the guestbook, where volunteers are prepared to supply tourism information and more information about the market and community and sell Litchfield Pickers Market gear.
Food vendors will be available along State Street at each intersection. A list of vendors and their locations will be listed at the tourism booth as well as on the event's website.
As an advisory measure, the following streets will be closed from 4 a.m. to 5:30 p.m. Sunday and the second Sunday of each month until October for the market:
State Street from Union Ave./Illinois Route 16 to the south-side entrance of Brown Shoe Apartments
Ryder Street from Monroe St. to Madison St.
Kirkham Street from Monroe St. to Madison St.
Edwards Street from Monroe St. to Jefferson St.
Jackson Street from Union Ave./Illinois Route 16 to Edwards St.
Any vehicles parked in the above-mentioned areas during these times will be towed at owner expense.
More information about the Pickers Market can be received by calling the Litchfield Office of Tourism during business hours Monday through Friday from 8 a.m. to 5 p.m. by dropping into their office at 120 E. Ryder St. or by calling (217) 324-8147.
Local weather for Sunday could be sloppy, with a 90 percent chance of rainfall with a high temperature of 60.
Please follow and like us: